long journeys, rainy days or just bored at home. There's so much pressure to keep kids entertained! This drawstring 2 in 1 game is the perfect toy to store in the car or take with you wherever you go and will keep children busy for hours! We all love playing tic tac toe with a pen and paper, but bright crocheted pieces will turn dull notepaper into a tactile and fun experience.
Tic tac toe and snakes and ladders are one of those generational games that never goes out of style! And with this crochet 2 in 1 game and pouch, you'll be passing along a tradition of fun for all ages! This free pattern will let you hook up the perfect entertainment for your kids both this summer and winter.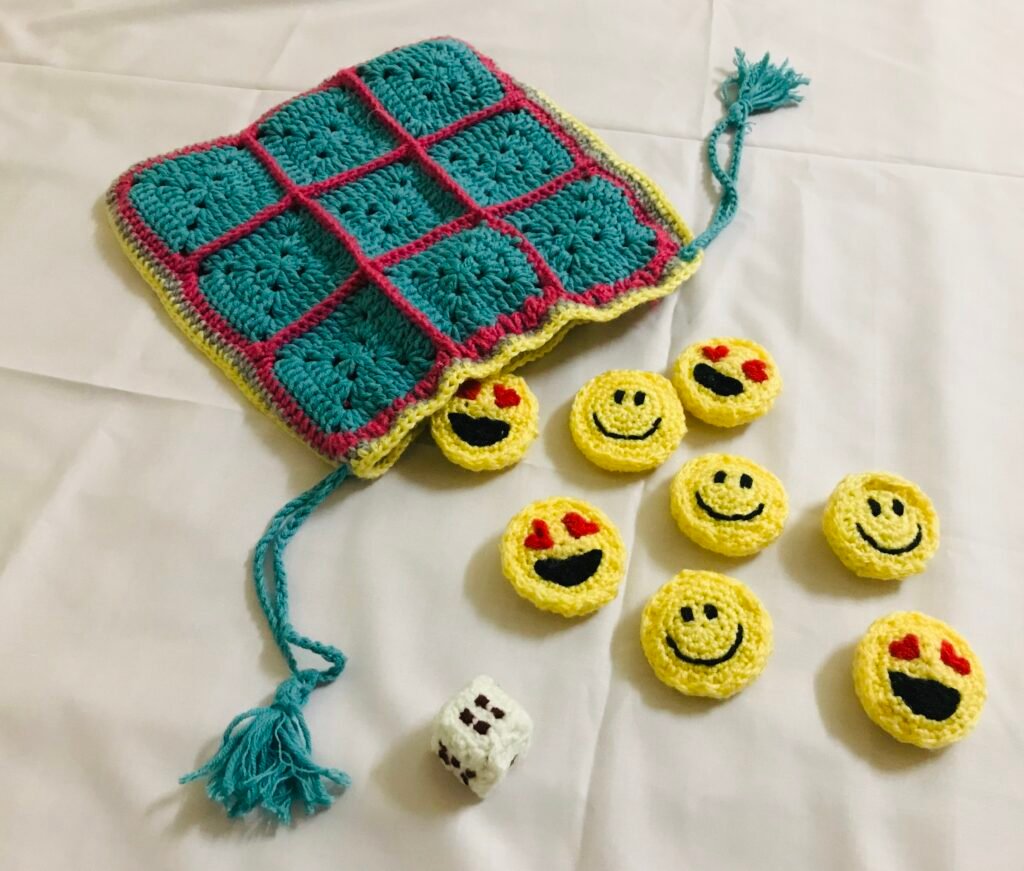 This convenient board turned pouch design keeps all pieces together so no one is ever missing the smiley or the dice at the beach, the composite, or on a long road trip.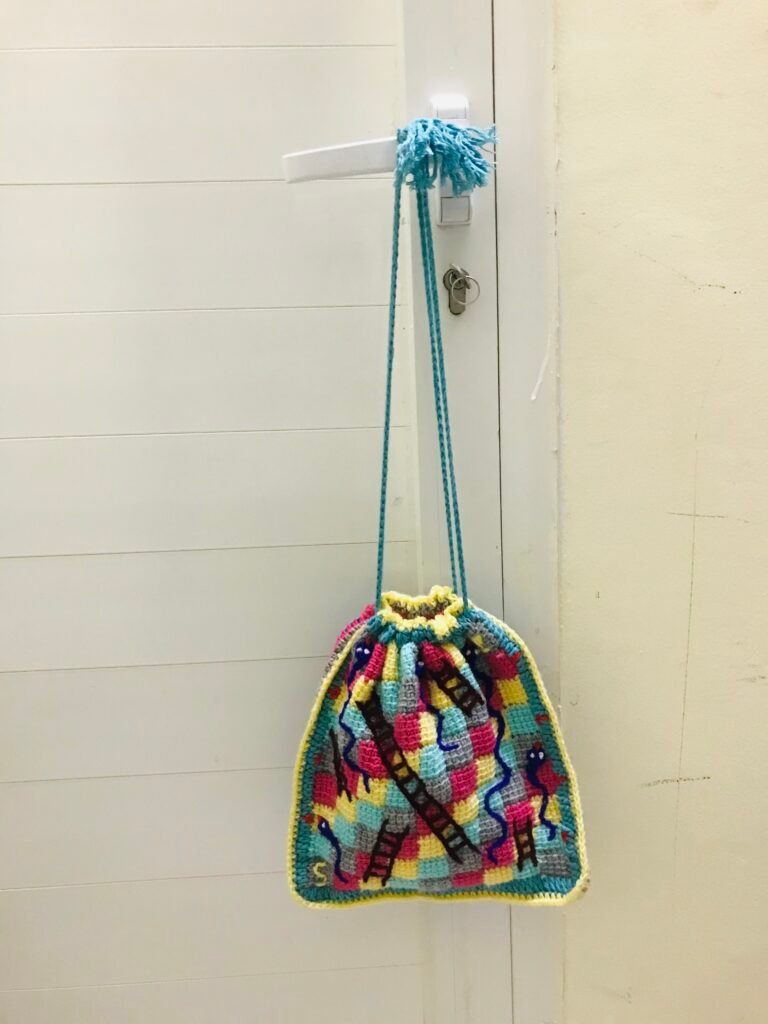 Are you excited to create this masterpiece get your hooks and scrap yarn and let's get crocheting.
STITCHES USED
Sc, dc, hdc, slst, mr, slst
MATERIALS REQURED
Hook 3.50mm
Scrap yarn assorted colours
Poly fill
Scissors
WORKING ON TIC TAC TOE
Solid granny square make 9 and later join them together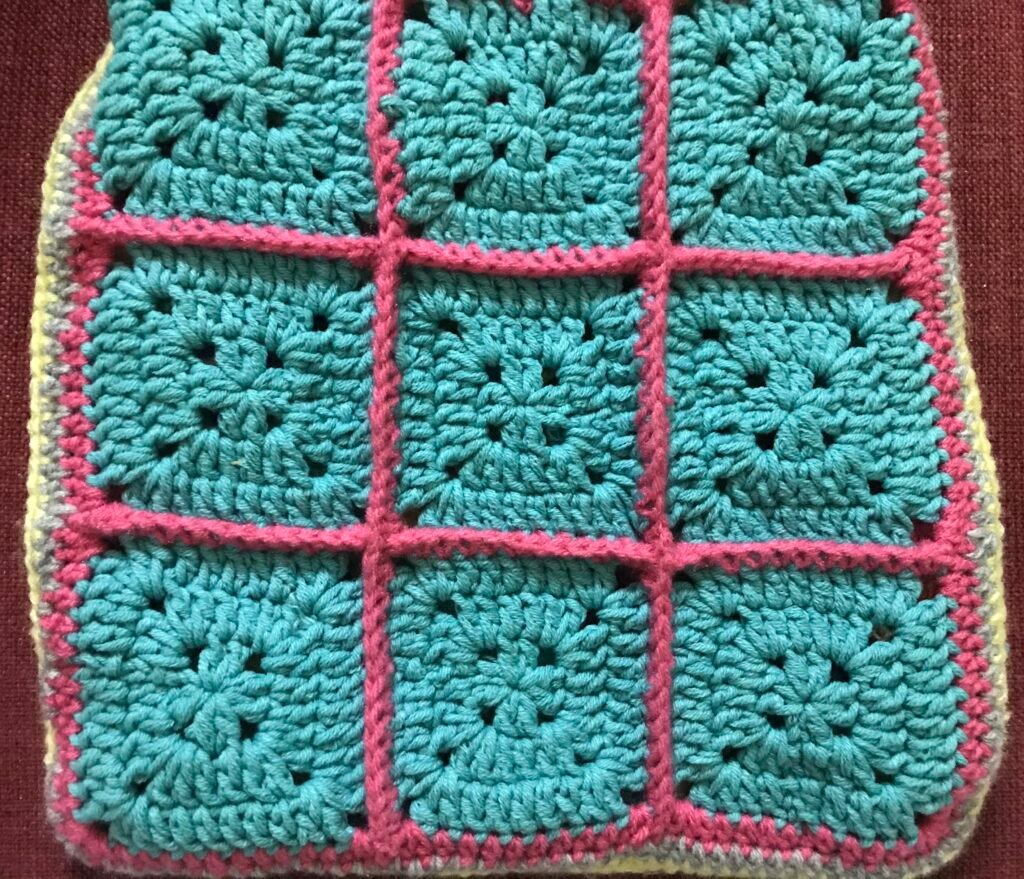 Row 1 ch4 join with last ch, make 3ch, 1dc, 2ch,2dc,2ch, 2dc, 2ch, 2dc join.
Row2 ch1, 2dc, 2ch, 2dc in 1st corner 1 dc over the dc, 2dc, 2ch , 2dc in next corner repeat this around join.
Row 3 repeat row 2 fasten off.
Now join squares together with sc and join all pieces together to make 1 big square. This makes your tic tac toe board game and one side of your drawstring pouch.
To smoothen the square sides work 2 rows of dc around.
WORKING ON THE SMILEYS MAKE 9
Row 1 make MR ch2 7 hdc in ring join with slst.
Row2 ch2 2sc in next 1sc in next repeat around join.
Row 3 ch2 1sc in next 2, 2sc in next repeat around join.
Row4 ch2 1sc in next 3, 2sc in next repeat around join.
Row 5 ch2 1sc in each around join. Fasten off make 2 circles and stuff join both with 1hdc around. Sew details on the face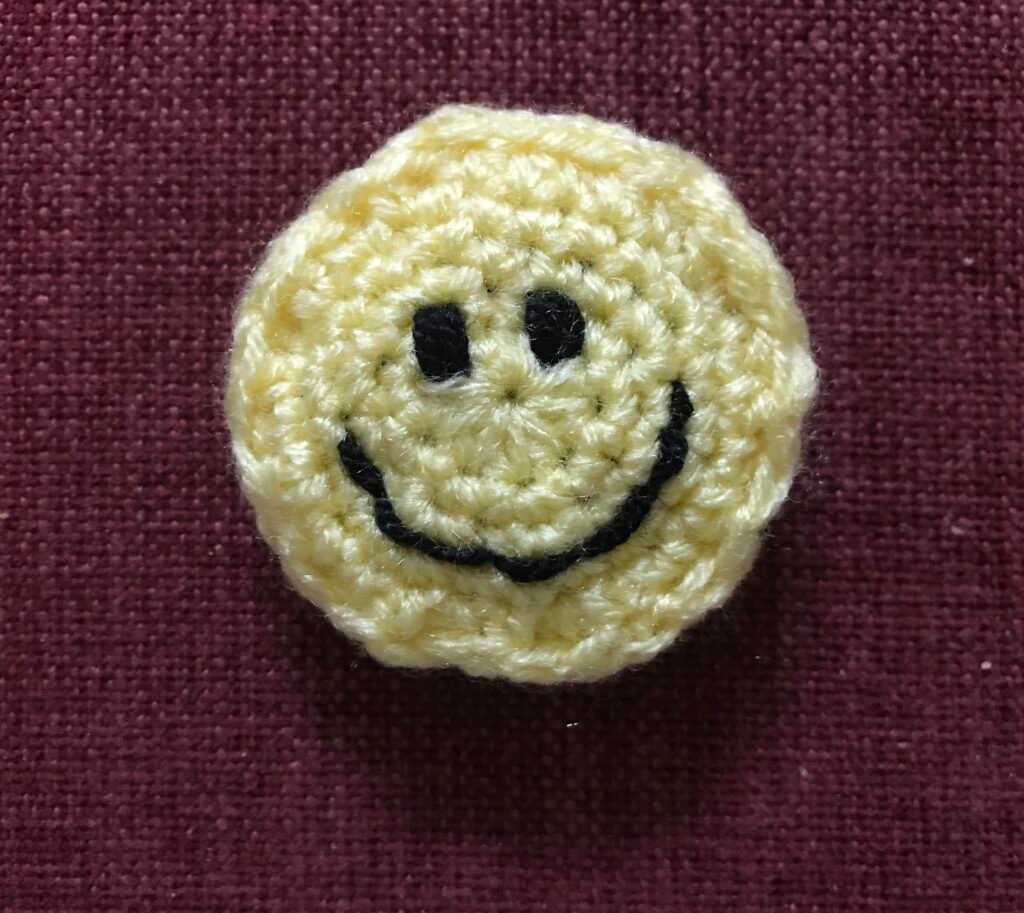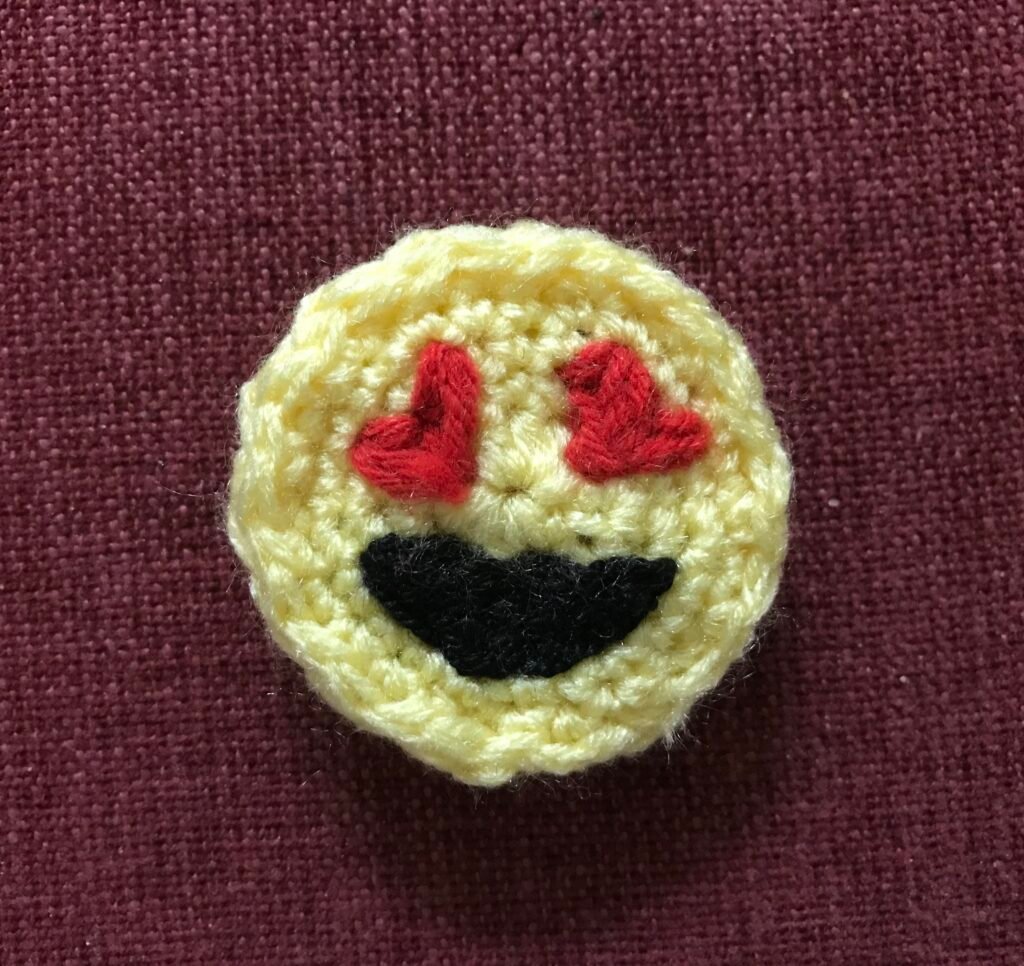 Taadaa! You just crocheted your very own tic tac toe if you love this pattern please share with your friends you can also send your work pictures here alina@crochetkrafts.com and get a chance to be featured on my insta page.
WORKING ON SNAKES AND LADDERS
Crochet tiny squares and join them together to create a colourful snake and ladder board game
Sew snakes and ladders and other details using tapestry needle and yarn. Also don't forget to add start and end and directions on the board. Smoothen the sides by working 1 round of dc around join fasten off.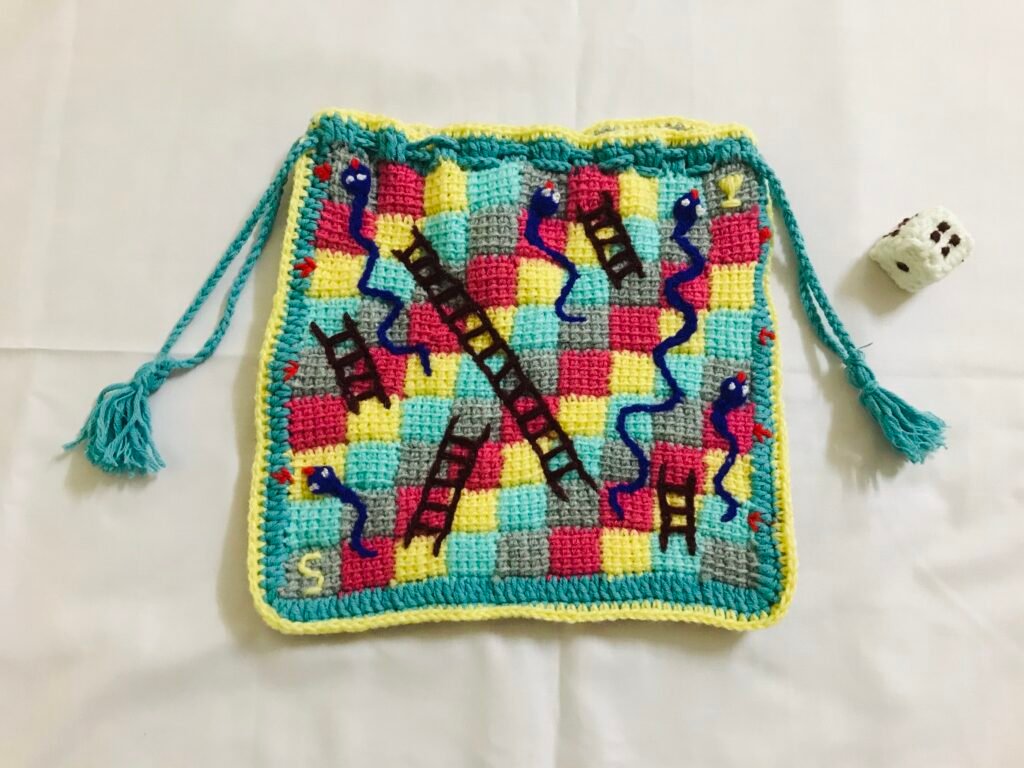 This completes the 2nd part of your game and the pouch now place both pieces on bone the other with the wrong sides inwards and join pieces with 1 sc around join.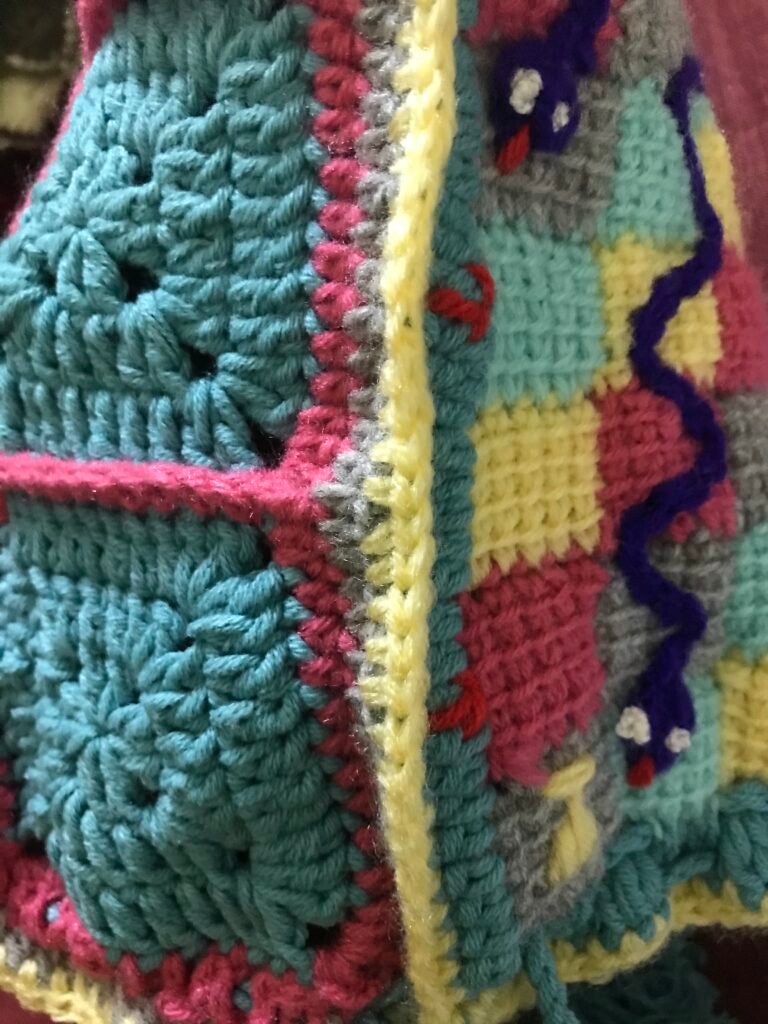 Now make 2cords simply by crocheting 150 chs and fastens of thread it around the opening of pouch both in opposite directions each and make knots at the open end add tassels and pull them to close the bag this complete your drawstring pouch.
I hope you enjoyed crocheting this adorable pieces if so please like share comment subscribe to get free crochet inspiration every week please do follow us on Instagram and Pinterest.
If you have any queries or want a tutorial of the pattern you can join our online classes for more details please send us a message on WhatsApp or visit our contact page.
Copyright
As a crochet designer planning and designing patterns is a tough task I've spend a lot of time creating and coming up with something new for you. I request you to please not copy any of my patterns or claim them as your own instead I would appreciate if you could share it to other crocheters and crafters on social media thank you.
Have a great week ahead!