What is amigurumi?
Amigurumi, meaning crocheted or knitted stuffed doll in Japanese, is a yarn craft that is winning over the hearts of thousands of makers! Usually crocheted you can create your own cute designs with adorable animals, food-inspired patterns and so many more crocheted cuties! Get ready to learn all about amigurumi, for beginners and crochet enthusiasts alike, with all your stash essentials, basic stitches through our online sessions.
REGISTRATION OPEN!!!!! SIGN UP NOW!!
The word amigurumi is a combination of two Japanese words: "ami", meaning crocheted or knitted, and "nuigurumi" meaning stuffed doll. You can make these stuffed toys in any size you want, but they're usually small and crocheted in lightweight yarns.
Amigurumi boomed in popularity in the early 00s in the US and the UK. Meanwhile in Japan, crafters have been in on the secret for decades!
What is the difference between crochet and amigurumi?
Amigurumi is simply the name given to the little characters, and crochet is the craft most commonly used to make them! Although it's more popular to crochet amigurumi, they can also be knitted.
Is amigurumi easy?
Amigurumi doesn't have to be difficult! Once you've picked up some basic crochet techniques and found a beginner pattern that breaks down the steps, it should be smooth stitching! To keep it simple, why not go for a chunkier pattern and yarn? You'll be able to see your stitches. JOIN OUR INTERACTIVE ONLINE SESSION TO MASTER THE ART OF AMIGURUMI.
What you need to started with amigurumi ?
Well today, I would like to introduce

ZUZU THE SHEEP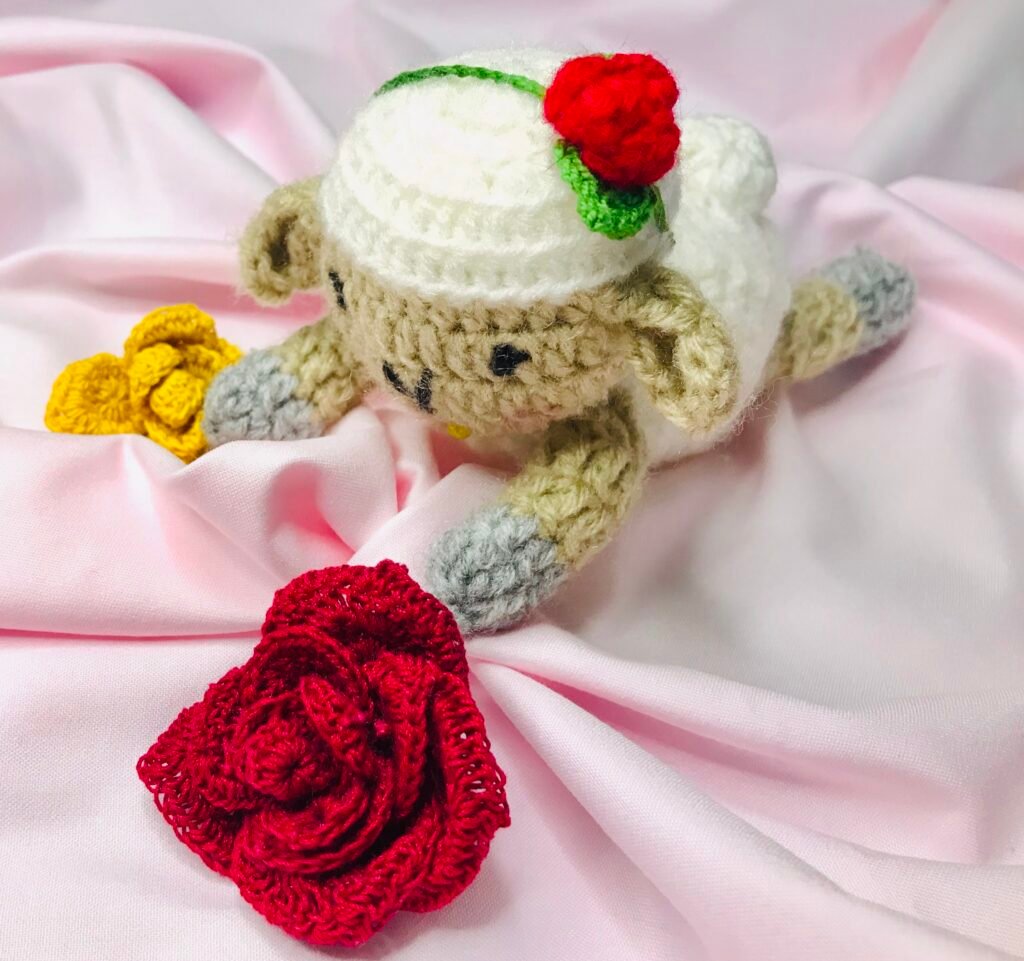 Whether it's spring, Easter, or Bakrid, these cute and creative crochet sheep are just what you need! And whether you have a baby shower coming up or you just love sheep, then you must get your hands on learning to create this adorable Zuzu.
Crocheters have a special fondness for sheep and lambs since they generously provide the supplies for our addiction – yarn! From blankets to full, puffy, huggable sheep, you'll fill your cuteness quota in no time!
Zuzu is the cutest playful sheep ever was! Who wouldn't want her???
During our online workshop you will learn to create Zuzu she's 6 inches long just the perfect size to use it as keychain, gifts or carry it anywhere. You will get complete pattern with all instructions.
DURATION 3 classes 2 hrs per day
VENUE online
SLOTS 3
WHAT YOU TAKE BACK?
Complete guide to amigurumi.
Interactive session with step by step demonstration.
Tips and techniques.
Learn to embroider details.
Full pattern will be given.
Completed Zuzu the sheep.
Confidence to do amigurumi.
TO KNOW MORE DETAILS KINDLY SUBMIT A CONTACT FORM OR WHATSAPP us for more information.
BOOK YOUR SLOT NOW!!!!
Like this post do share and subscribe for more yarnspirations…. Also follow us on social platforms.
For business/collaboration mail us at alina@crochetkrafts.com
Have a great day ahead!
happy crocheting!!!!
??????