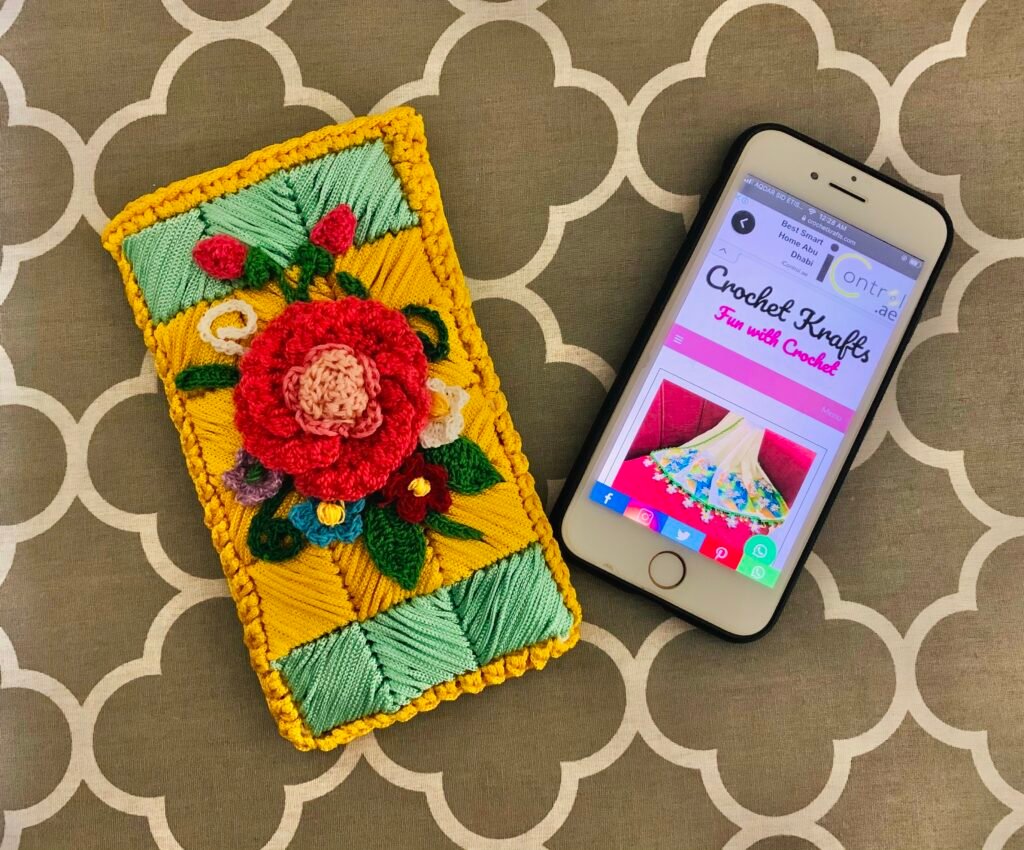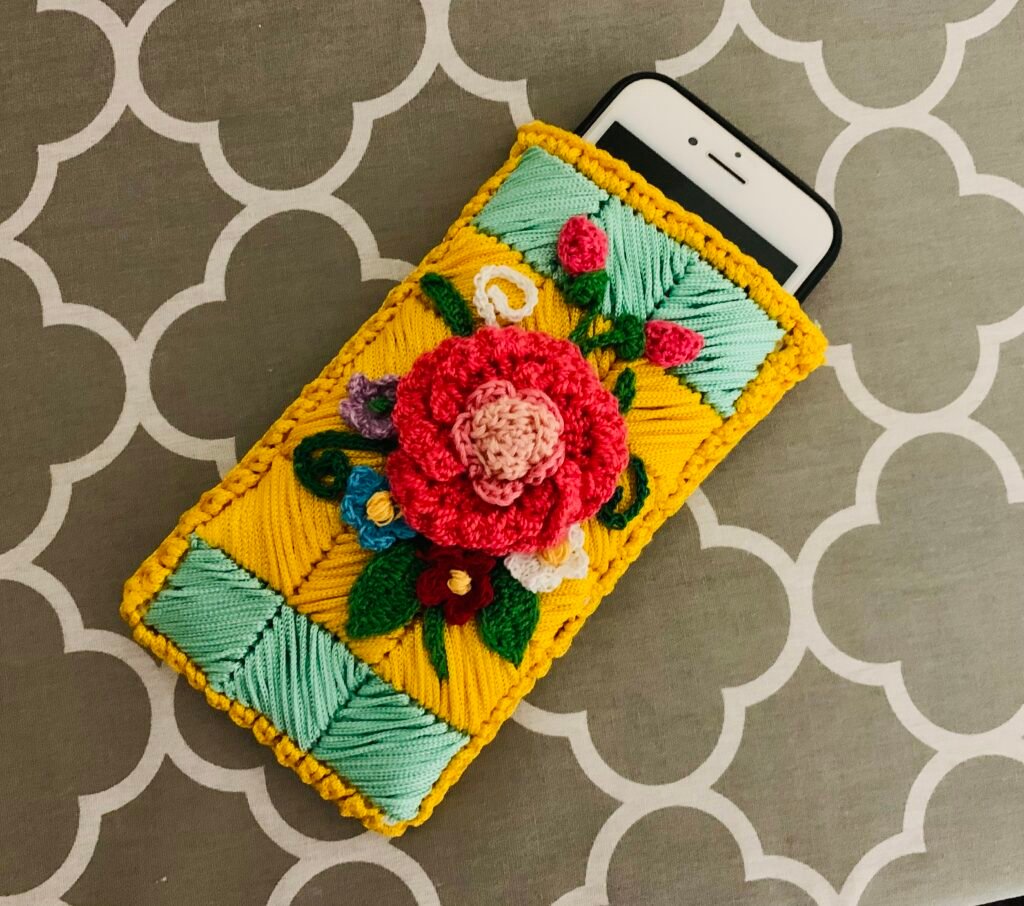 Crochet phone cozy, frequently also called as cell phone cover, are such fun little projects. They are easy to make can incorporate both simple and advanced stitches, use up very little yarn offer instant gratification crafting.
Today's pattern is very unique will be incorporating plastic canvas and crochet to create a unique masterpiece. These mobile cozy make great gifts too.
Let's get crocheting!!!!!
skill level Intermediate
stitches used
Ch
Mr
sc
Dc
Hdc
Trbc
Slst
pattern notes
Will be making the body of the cover using plastic canvas and sew it with cord. Join the two pieces by crocheting around.
Crochet flowers and sew it over the pouch.
MATERIALS REQUIRED
Plastic canvas
Cord
Crochet hook 0.50mm
Crochet thread no 20 (assorted colours)
tapestry needle/ yarn cutter
Pattern `(working on the body)
cut plastic canvas according to your phone size make sure to keep it 1 cm bigger than your phone. Sew any desired pattern on the canvas using cord and tapestry needle refer given pic.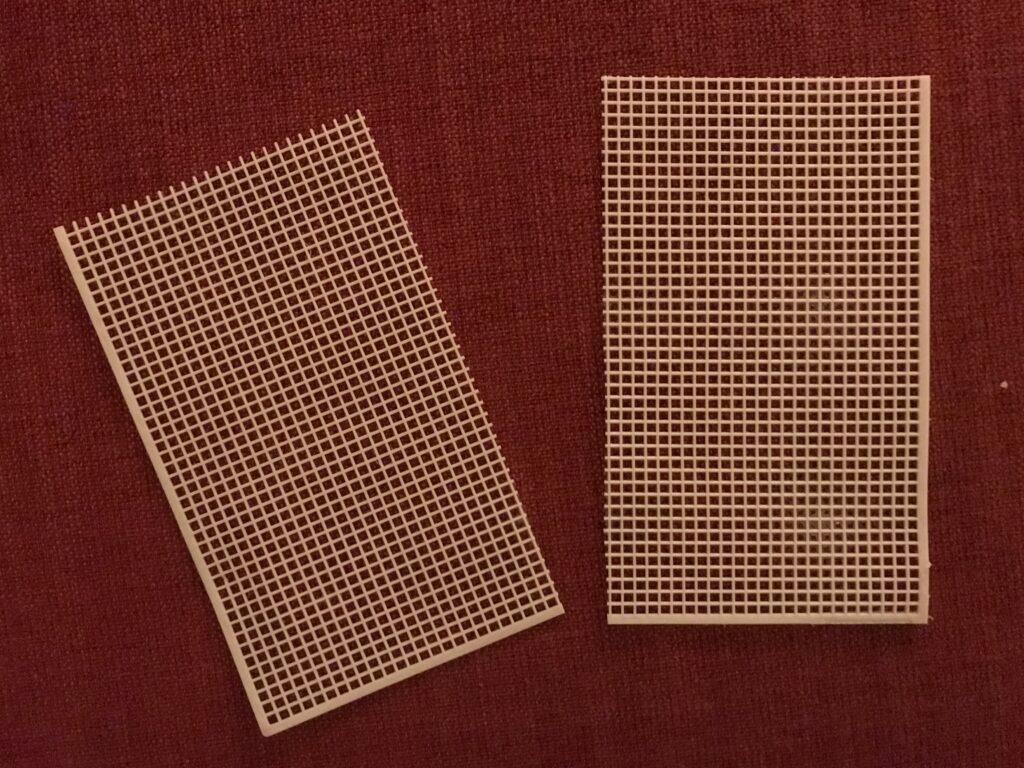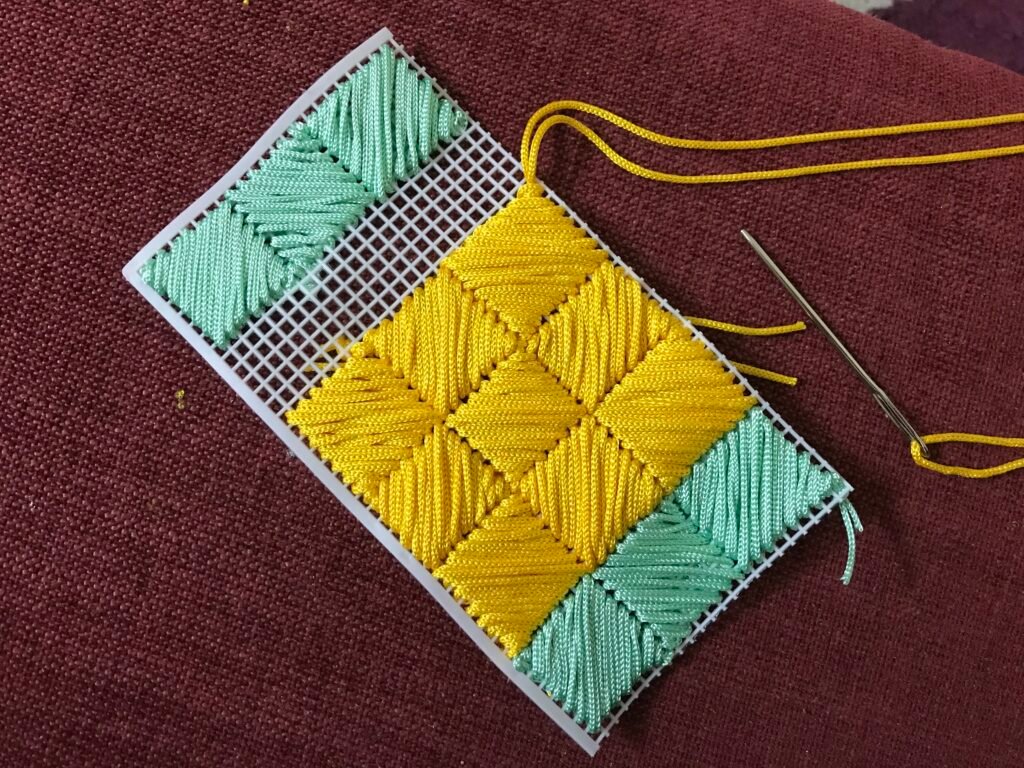 Join the canvas leaving one side open join same cord ch2 and make 1dc in stitch make sure your stitches even and canvas in covered.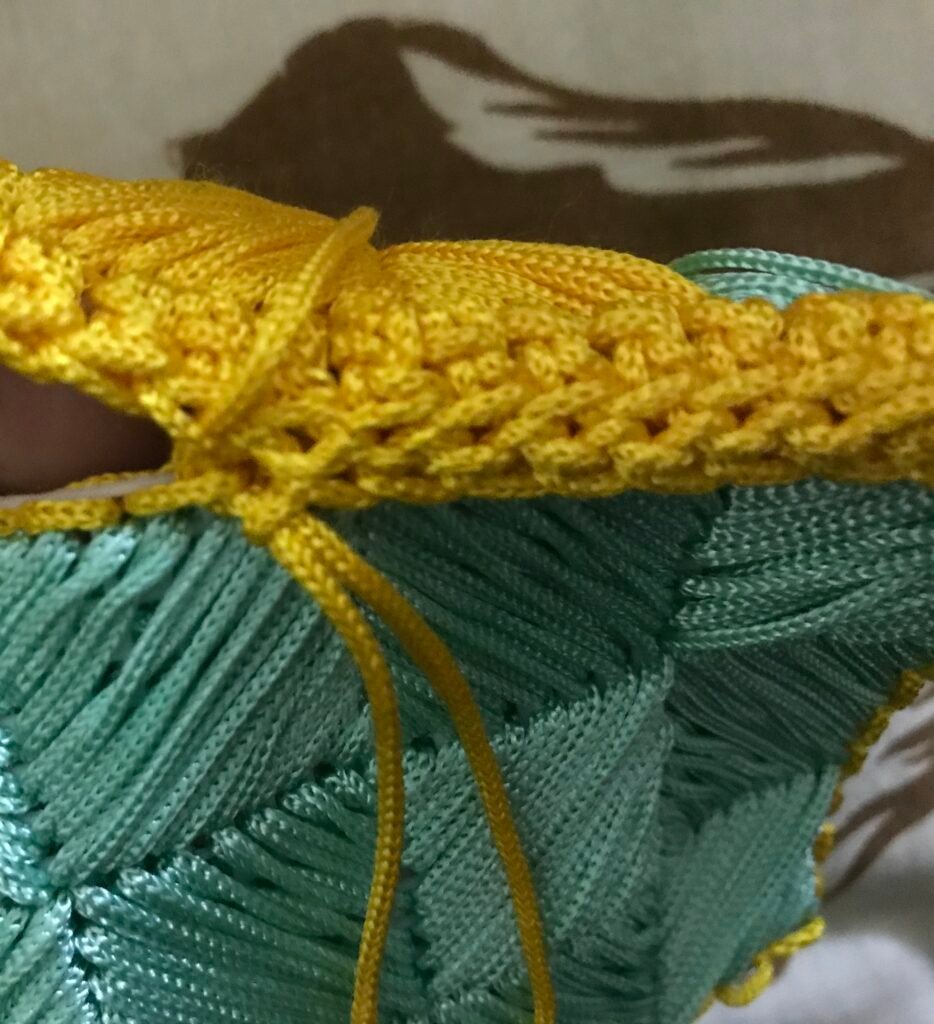 WORKING ON THE CROCHET FLORAL BROOCH
SPIRAL FLOWER
ROW1 ch4 12 dc in last ch join with 1st stitch.
ROW2 ch2 1 hdc in same, 2hdc in next, ch2 turn 2hdc in each, ch3 turn 1hdc in next ch1 1hdc in next repeat in all, ch2 1 puff stitch in ch1 space, ch2 and 1 puff in next space repeat around, slst till the base this completes on petal repeat row 2 4 times join and fasten off.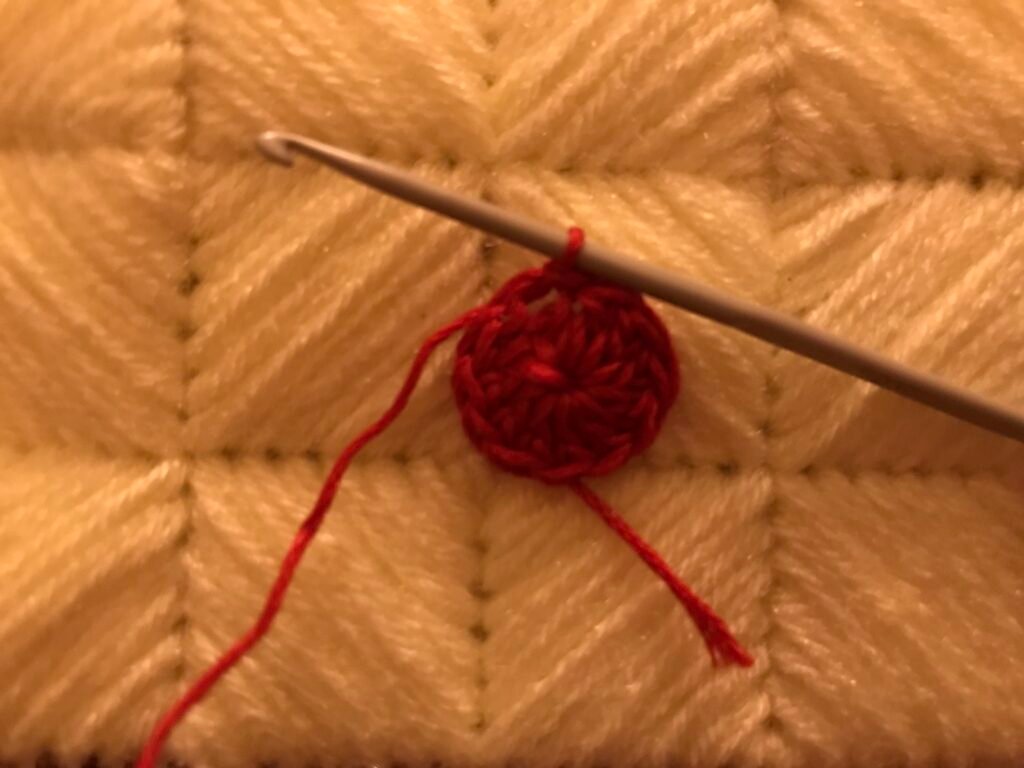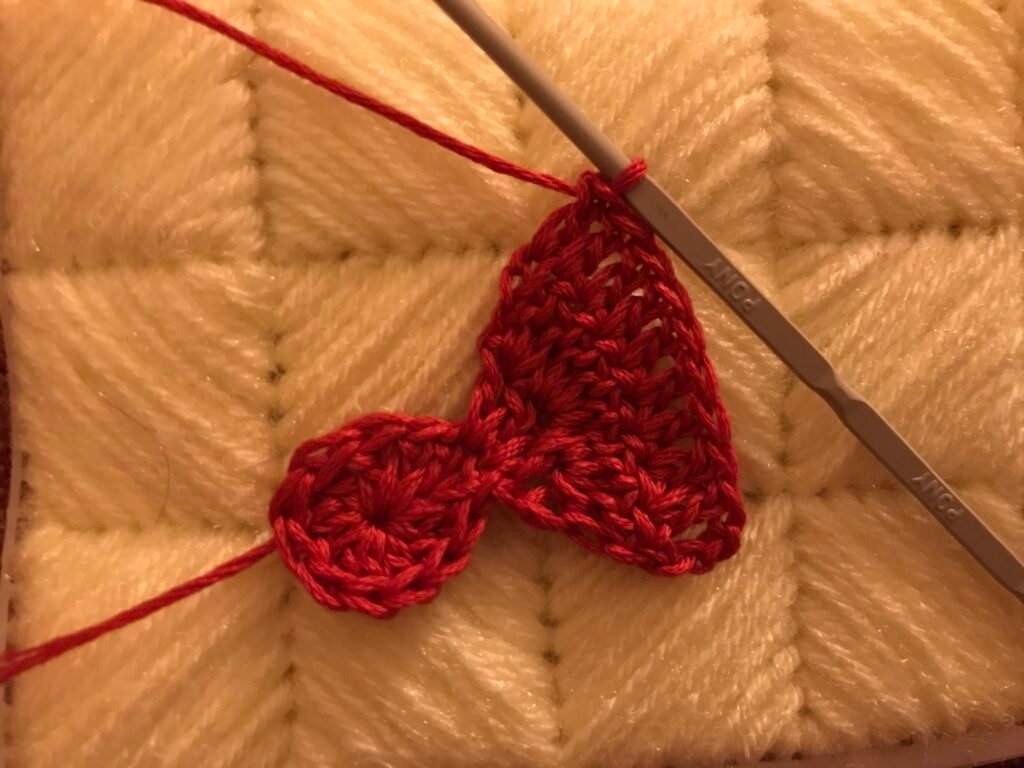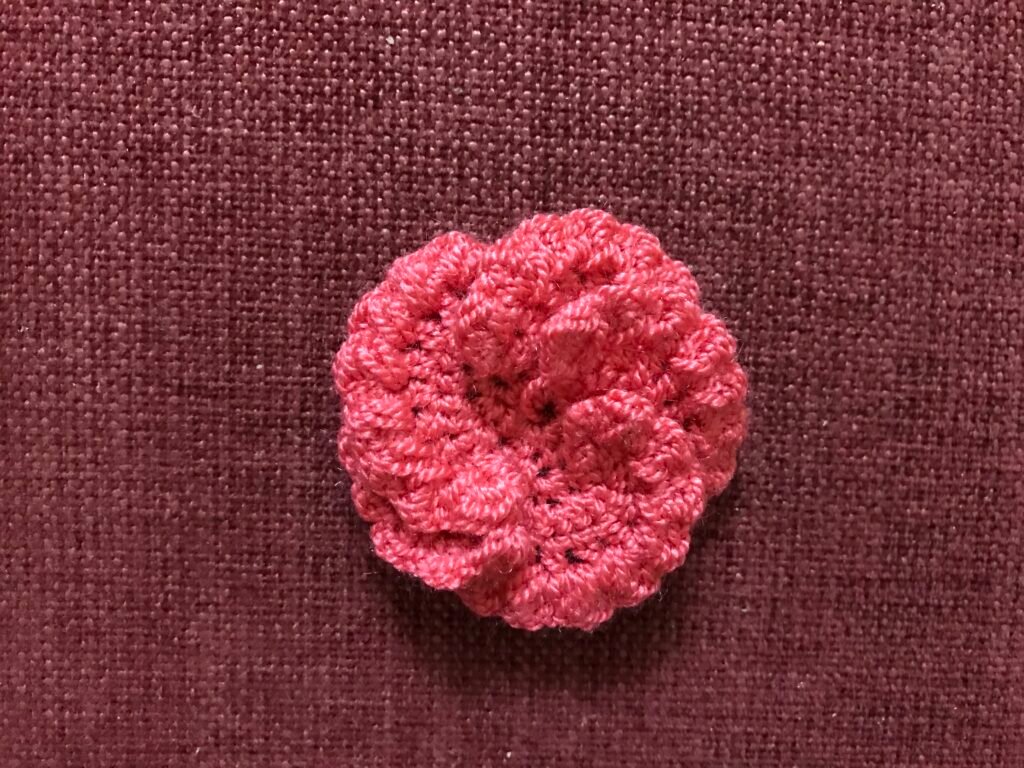 spiral flower Center bud part 1
ROW1 ch3 10 hdc in last chain join.
ROW2 ch1 3hdc in next ch1 slst in next repeat this around until you have 5 petals. Fasten off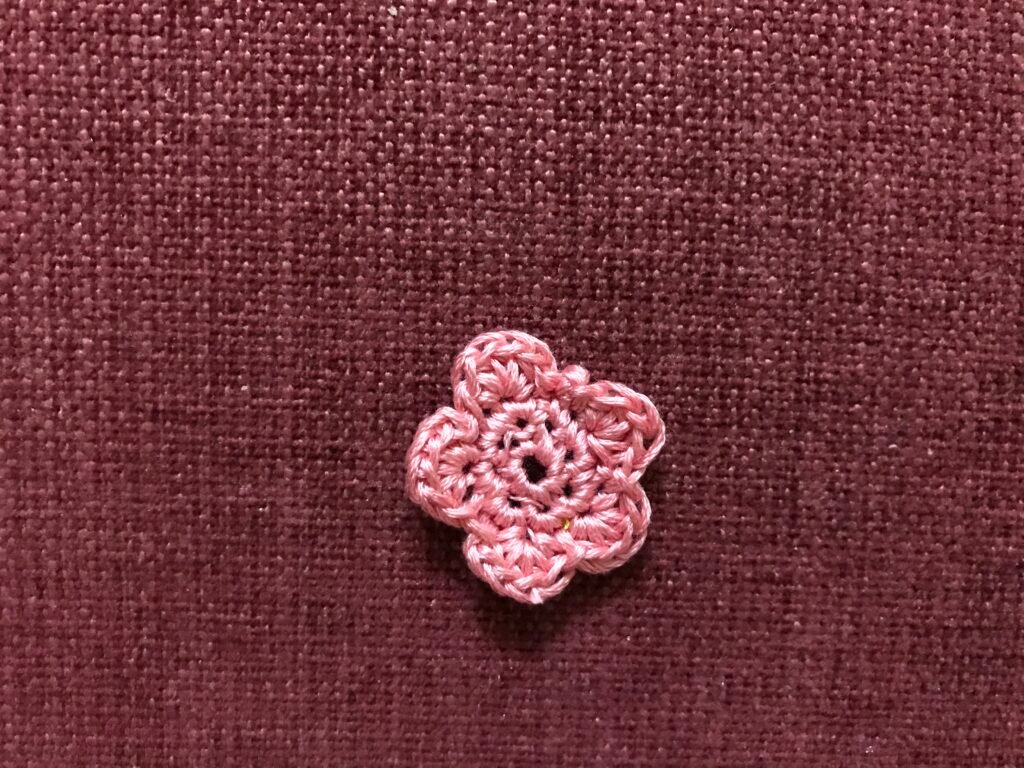 Center bud part 2
ROW1 make 12 ch, skip 1 2hdc in next slst in next repeat around and fasten off.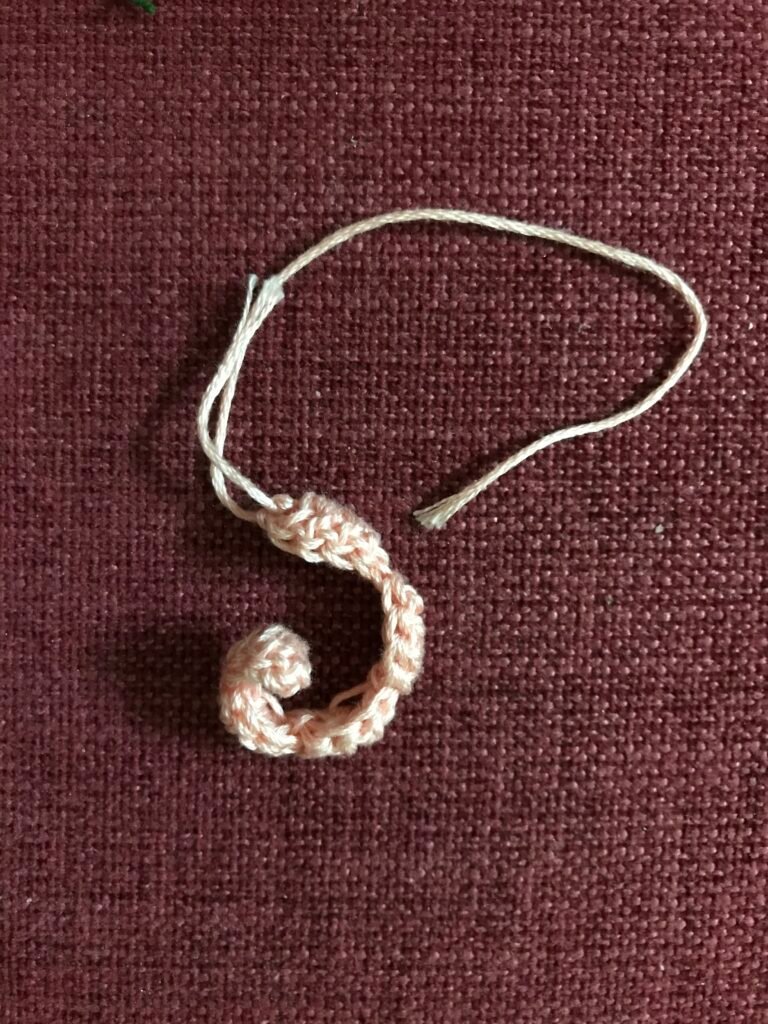 Crochet tiny flowers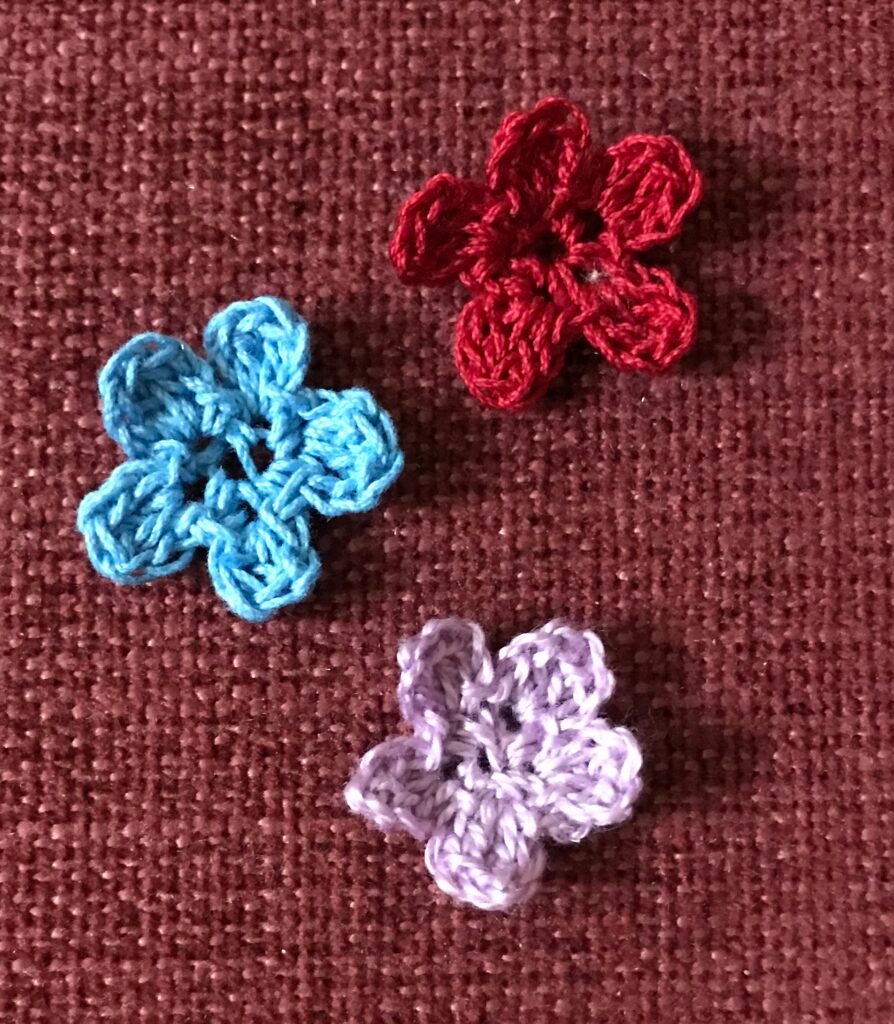 ROW1 ch3 join with last slst, *ch2 1sc,* repeat around until you have 5 spaces.
ROW3 ch1, 2 hdc in space, ch1 slst in same repeat this in every space. Around.
CROCHET LEAVES
ROW1 ch 12, skip 1, 1sc, 1hdc,1dc,1trbc till last 4th stitch, 1dc, 1hdc, 1sc this completes 1 side of the leaf repeat the same on opposite side fasten off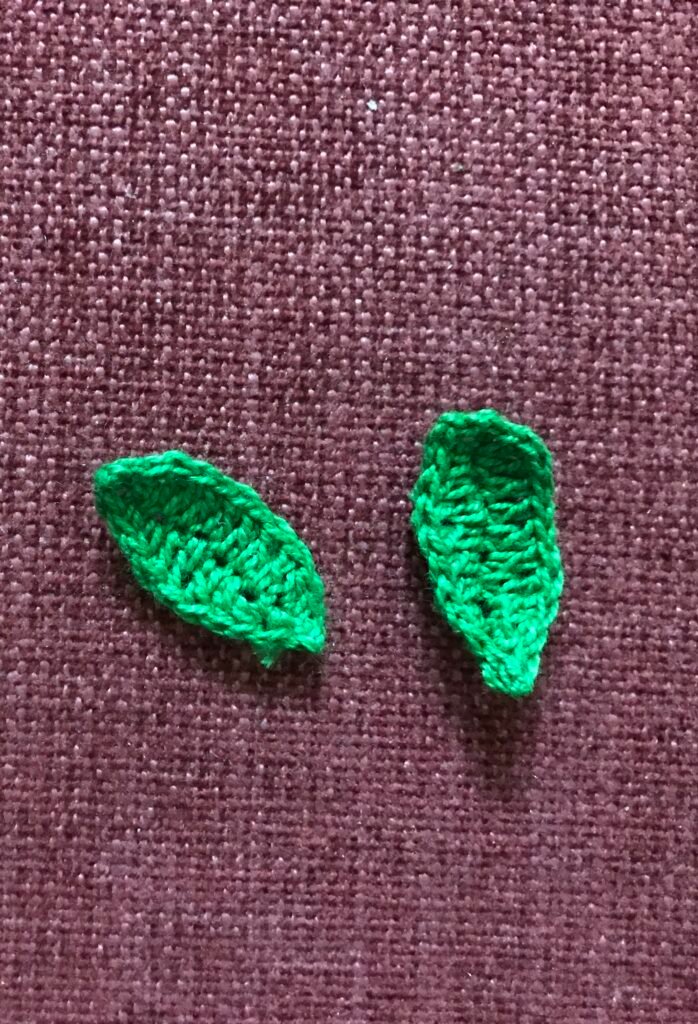 CROCHET TWIGS
ROW1 CH 10 and 1 slst in each fasten off.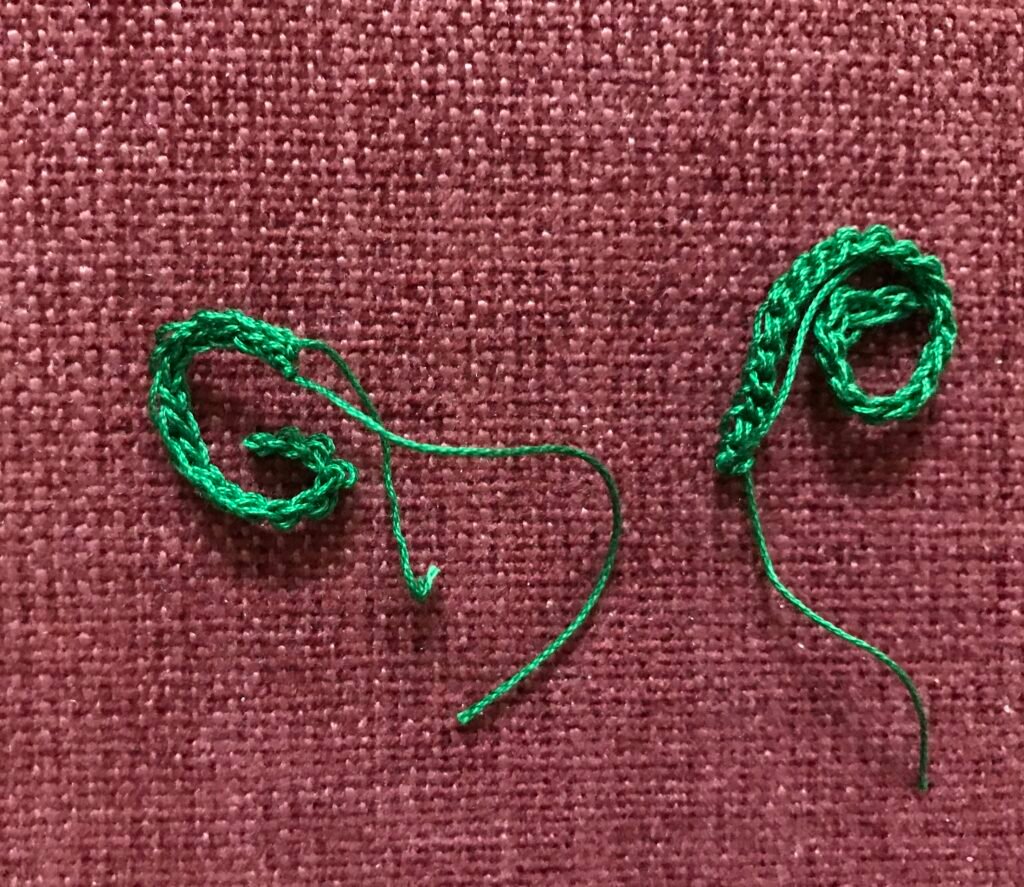 CROCHET SLENDER LEAF
ROW1 CH12 and 1sc from the second and every stitch fasten off.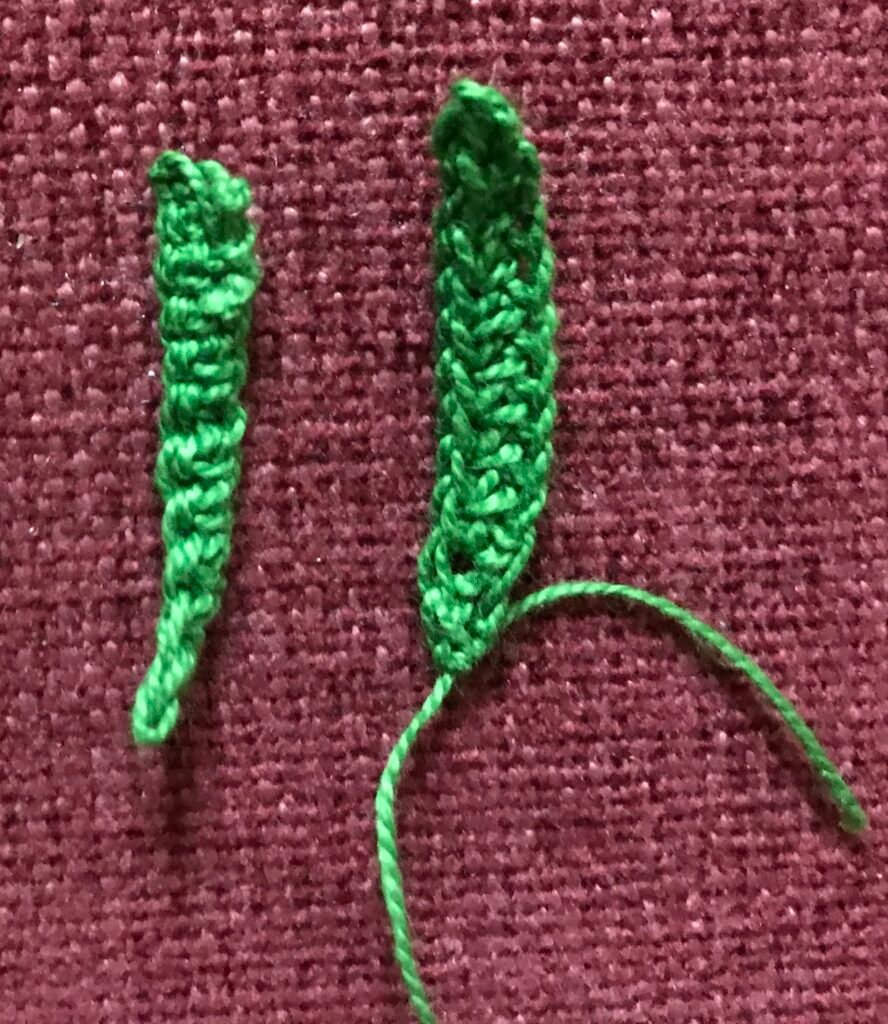 CROCHET BIG BUDS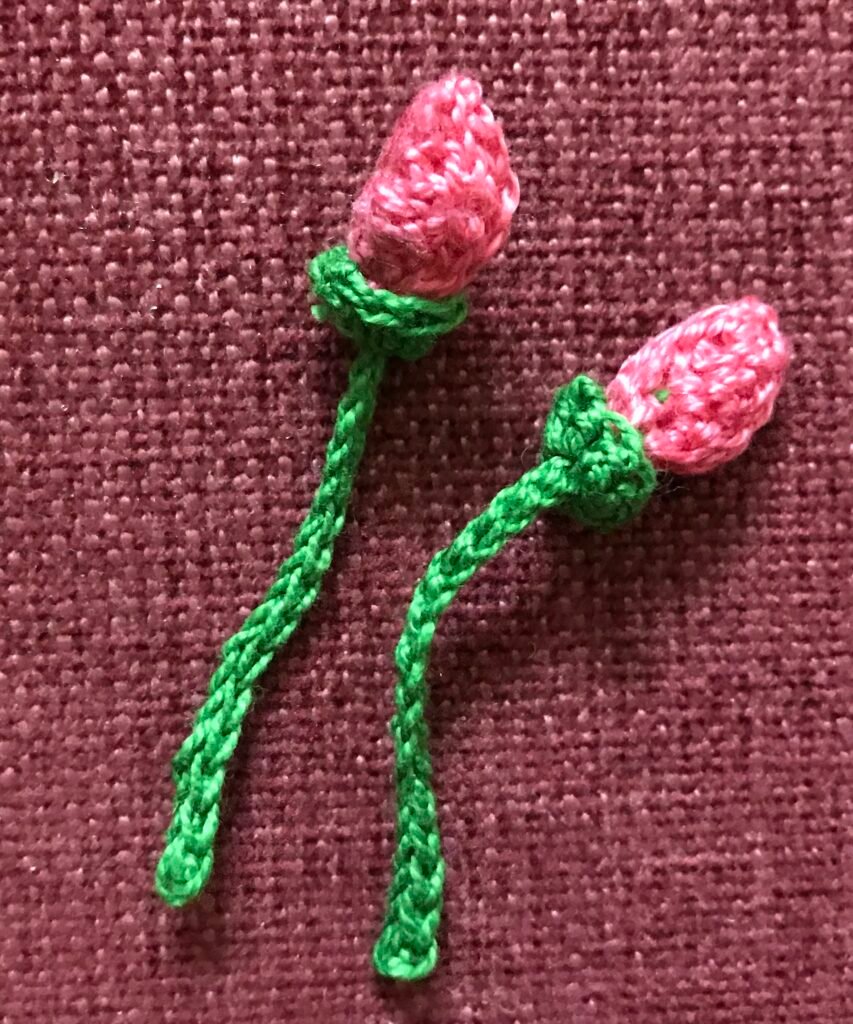 ASSEMBLING
Arrange the flowers twigs in desired way and sew them together hide the ends and your very own crochet mobile cozy is ready to flaunt.
I hope you love my work and your finished product if so please do like share, subscribe to get free pattern every week.
Have a great week ahead!!
From collaboration please mail us here alina@crochetkrafts.com
For online classes please visit our contact page.
COPYRIGHT
PLEASE DO NOT CVOPY OR CLAIM MY PATTERNS AS YOUR OWN YOU MAY MAKE THEM AND SHARE ON SOCIAL MEDIA AS LONG AS YOU DIRECTLY LINK BACK TO MY BLOG POST.
#crochetkrafts
Please follow my insta page.
Happy crocheting ?!!